Imation 8mm D8-160 Data Cartridge - 45386 :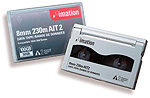 (8505XL drive) - 7.0GB/14GB Capacity
(8205XL drive) - 3.5GB/7GB Capacity

Absolute data protection
Protect your data around the clock with our highly reliable and cost effective Imation 8mm D8 Data Cartridges. Imation 8mm D8 cartridges feature our proprietary backcoating process and offer up to 7GB of native capacity. Ideal for entry level server backup environments.
Introduced over 30 years ago, backcoating minimizes the damaging effects of compression to the recording surface. It also dissipates harmful static buildup and reduces tape slippage, giving you improved tape winding and stacking, and absolute data security.
Features:
Up to 7GB native capacity
Up to 500KB per second transfer rate
Compatible with Exabyte 8200, 8500, and 8505XL drives
To protect your drive and ensure that it operates at maximum efficiency, use Imation network cleaning cartridges.
---
Related Products :