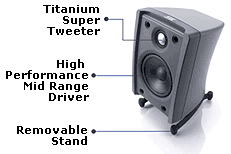 Titanium Super Tweeter

Each satellite speaker on the GigaWorks S750 is enhanced with a Titanium Super tweeter capable of delivering superb ultrasonic audio performance for silky smooth highs in music, games and movies.
High Performance Mid Range Driver
High performance mid range driver reproduces full-bodied vocals and well-textured acoustics in musical instruments.
Removable Stand
Removable tilted stand provides elevated sound projection to bring the sweet spot to your ear level.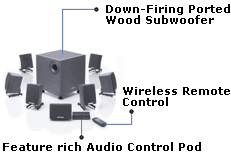 Down-Firing Ported Wood Subwoofer
The powerful wood subwoofer is heavily reinforced and delivers a power of 210 Watts RMS. It features a large, down-firing 8" long-throw driver and a dual flared port tube for clean, strong, earth-shattering bass.
Feature rich Audio Control Pod
This comprehensive Audio Control Pod incorporates a patent pending M-PORT for music streaming. It is also compatible with Creative audio players such as NOMAD MuVo NX. Besides having individual controls for front, center, side and rear channels, it also features bass/treble/volume adjustments, and mute and upmix controls.
Wireless Remote Control
This speaker system comes with a handy wireless remote control that has similar function in adjusting your individual output levels, bass/treble, mute, power on/off and volume controls.

EAX
Its seven powerful satellite speakers and a separate subwoofer deliver 8-channel amplification. This makes the Creative GigaWorks S750 an incredible 7.1 speaker system for use with Creative's EAX-enabled products. The high power speaker system delivers a thrilling, quality PC home theatre experience that meets the prestigious THX multimedia certification standard. Combine this speaker system with the 24-bit Sound Blaster Audigy 2 series sound cards and you'll experience the ultimate in high-powered, high definition audio playback of your Dolby Digital Surround EX titles on your PC.

THX Certification
THX Certified multimedia products carry the THX mark of excellence in home entertainment. These certified products have been developed, evaluated and tested to meet rigorous performance standards established by THX specifications. These specifications include power handling, frequency response and dispersion characteristics. The THX logo on your product is your guarantee of performance, promising many years of crisp and clear music listening.